There's advantage in our weakness,
There is blessing in our pain;
It is when we're feeling helpless
That God's grace and strength sustain.
-Fitzhugh
Have a great Sunday to all!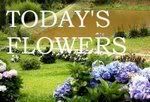 Click the logo, feel free to join and see the beauty of flowers from all over the world. Special appreciation to Luiz and the TF team for this very wonderful meme. Happy TF day!