I have some Chrysanthemums here taken yesterday in a garden center. These flowers are my Halloween gifts to you. It might be very simple but I found it beautiful! This is the first time that I have seen huge flowers of this kind. I have some in our garden before but they are smaller. Have fun viewing the photos here! I wish you all a wonderful start of the month of November.
Chrysanthemums, often called mums, are a genus (Chrysanthemum) of about 30 species of perennial flowering plants in the family Asteraceae, native to Asia and northeastern Europe.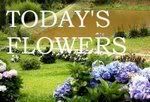 Click the logo, feel free to join and see the beauty of flowers from all over the world. Special appreciation to Luiz and the TF team for this very wonderful meme. Happy TF day!


Click the logo to visit the blog. Feel free to join this wonderful meme especially if you love yellow. Thanks to the Author Drowsey Monkey for hosting this beautiful meme. Happy Mellow Yellow Monday!